Installed in 1974, Cadillac Ranch was created as an art display – a sculpture that included ten Cadillacs buried half way into the ground in Amarillo, Texas. Located not far outside of Palo Duro Canyon, this is one stop we recommend you make. Visit Cadillac Ranch in Texas to see the unique public art installation or to get creative and leave your own mark.
Visit Cadillac Ranch in Texas
Cadillac Ranch is located right off the main highway in the middle of an open field. It appears to almost be in the middle of nowhere. The walk from where you park to when you get to the Cadillacs is a little ways down a dirt path.

You can pose with the Cadillacs and even climb on top to paint the front end. There was a small crowd when we went to visit but if you take your time you can capture some shots without strangers in view.
The layers of paints on the cars was impressive. I found it amusing to see. It almost makes you wonder how much of the actual car is left underneath there and how much is just the paint. I am sure some of it has eaten away at the real finish.
Fun Fact: In 1997 the art installation was moved from it's original location in a wheat field.
My daughter had broken her foot a few weeks before our trip to Amarillo and was mostly in a wheelchair. Luckily she had a walking boot she could wear to stand for short periods of time. Although the walkway was a rough dirt path, we were able to push her down. However, at the front of the property there is a metal turnstile that a wheelchair could not go through. We had to fold it up and lift it over.
Become a Graffiti Artist at Cadillac Ranch
Our favorite part of the Cadillac Ranch was leaving our signature on the cars. The kids had a blast spray painting. I'm not sure if encouraging them to become little graffiti artists was a good thing but at least it was legal!
Each child had fun picking their favorite paint color at Walmart before we left on our trip.
Add, Visit Cadillac Ranch in Texas, to your Life List for a day of creative fun. Below is a list of items we recommend you take with you.
disposable gloves to wear while you paint
spray paint in at least two colors

there is so much colorful coverage on the Cadillacs that you will want one color of paint to make your own canvas, then a second color to 'write' your name or initials.

wet wipes
disposable small trash bag to toss your spray paint cans in after you are done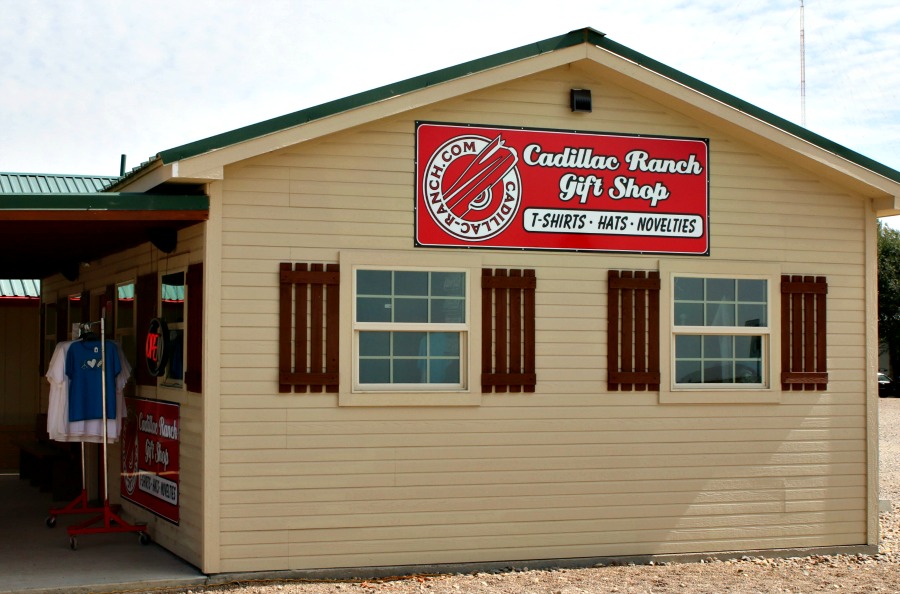 Right down the road from the Cadillac exhibit is a gift shop. You can find any kind of souvenir that you may want. They also have clean public restrooms for you to use.
Out front of the gift shop is a display of beautiful Cadillacs without graffiti for your viewing and photos.
Check out our drone footage of Cadillac Ranch and see our graffiti art in action.